Shiloh Youth
Shiloh Youth is the place for teenagers in Rock Church. Our team is committed to building relationships with students to help them grow in their relationship with God.
Are you a student that's looking to get connected? Or maybe you have a student in Junior High or High School? This summer we're meeting weekly on Monday nights and hosting a number of other events. We'd love to connect with you!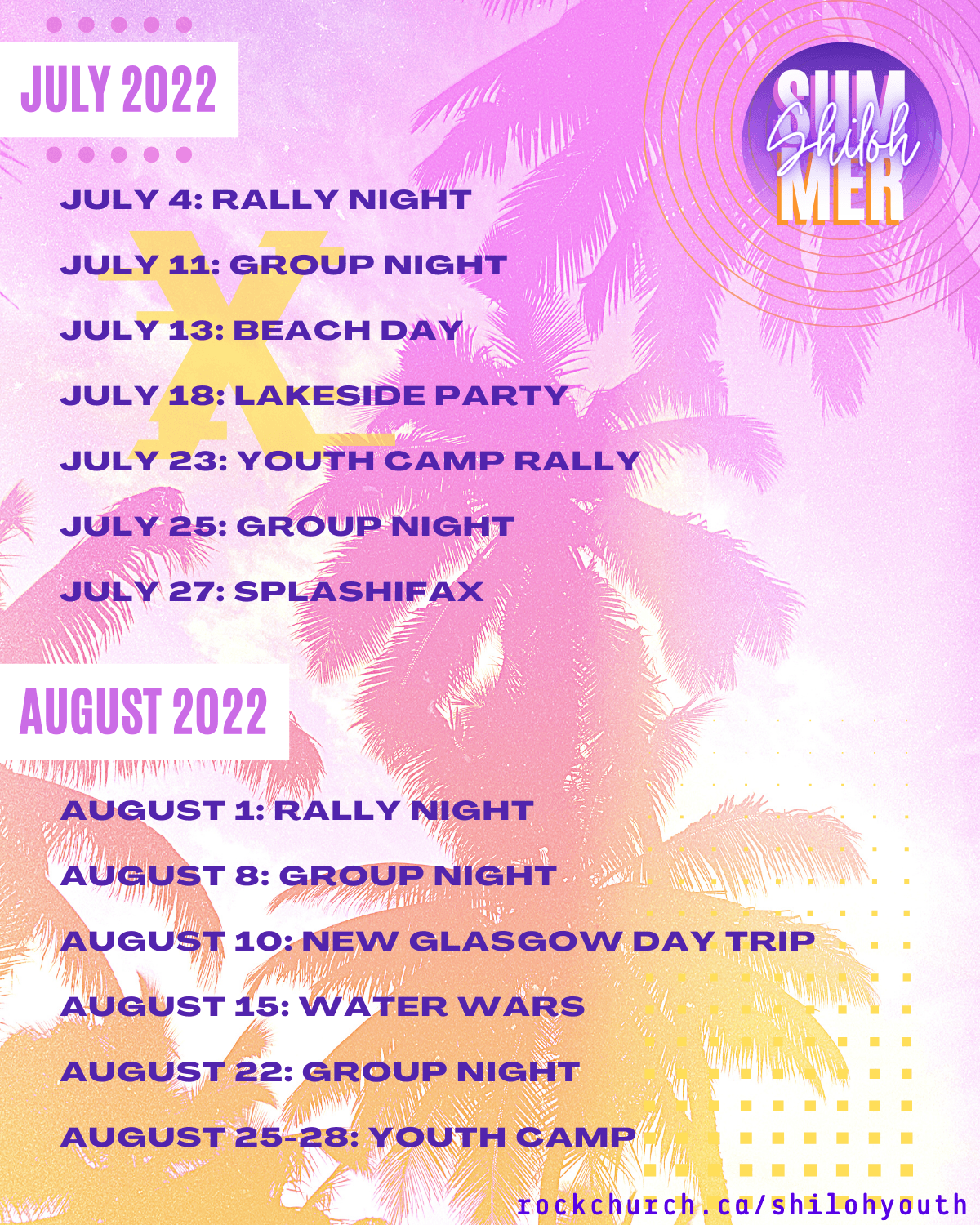 Summer Events
Check out important information below about our Summer Events.
Monday Night Youth
We'll be meeting every Monday onsite at the church from 7:00 pm - 9:00 pm except on July 18th when we'll be meeting at Pastor Bruce and Lisa's for a Lakeside Party (93 Hall Road).
Beach Day: July 13
On Wednesday, July 13th we'll be heading out to Rainbow Haven for a Beach Day! We'll meet at the church at 10:00 am and be back at the church at 3:00 pm.
Youth Camp Rally - July 23
Our friends from Summerside Community Church are coming to Halifax from July 22-24 so we're taking advantage of the opportunity to be together!
On Saturday, July 23rd from 6:00 pm-9:00 pm we're hosting a Youth Camp Rally for every student that's coming or considering coming to Summer Camp in August.
We'll give everyone a little taste of what Youth Camp is all about and prep students for how to go into the weekend experience. It'll also be a chance for leaders and students from all of our different youth groups to spend time together, building friendships and connections before we're away at Youth Camp.
Splashifax: July 27
On Wednesday, July 27th we'll be heading down to Bridgewater to enjoy the Splashifax water park.
We'll meet at the church at 8:00 am and be back at the church at 2:00 pm. The cost is $40. Students are encouraged to either bring a packed lunch or some extra money to purchase lunch.
New Glasgow Day Trip: August 10
On Wednesday, August 10th we'll be heading up to Christian Fellowship Church in New Glasgow to connect with the youth of their church.
Plans are still in development but our goal is to build friendships with the youth of their church through some fun activities and help run the youth group in the evening. We'll be leaving the church at 10:00 am and we'll be back at 11:00 pm.
Youth Camp: August 25-28
Summer Camp is happening from August 25th-28th. We're joining the youth from Christian Fellowship Church, New Glasgow, and Summerside Community Church for a Summer Camp experience on Prince Edward Island at Canoe Cove Camp.
We'll meet at the church at 5:00 pm on Thursday, August 25th, and be back at the church at 2:00 pm on Sunday, August 28th. The cost is $80/student.